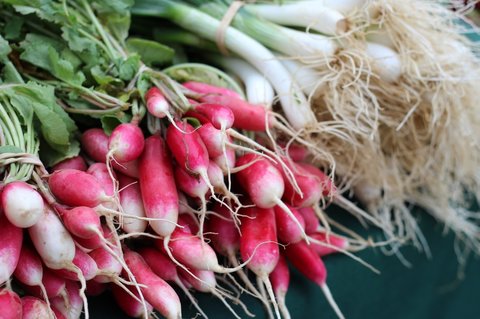 ​This week at the Market
Another awesome Market day went in the books this past Saturday. Mother Nature must love The Farmers Market. Cross your fingers this trend continues.
Please join us each Saturday on Beautiful Congress Square in Orleans from 8 am until noon. Orleans is the "Front Porch" of Orange County. If you are looking for a "Family Friendly" place to go on Saturday mornings. This is the place to be. Everyone is welcome. There are products available for every taste.
This week our "Family Friendly" event is Leann from Back to Nature Farm with an awesome Spinning Demo. Leann is a wiz on the spinning wheel and she loves to demonstrate her talent. She is able to spin her own yarn and make stunning products. Come see Leann from 10 am until noon.
This Saturday you can expect to see,
From our farms and gardens,
kale, lettuce, tomatoes, blackberries, blueberries, broccoli, carrots, herbs, okra, peppers, cauliflower, cucumbers, flowers, potatoes, radishes, onions, green beans, bok choy, squash, zucchini, cabbage, beets, rhubarb, sugar snap peas, eggs, lamb, pork, chicken, beef, pet milk, gourds, plants and plant starts.
​From our craft folks,
hand painted signs and household items, custom made coin jewelry, wind chimes, purses, dolls and doll clothes, heirloom quality wooden bowls and jewelry boxes, jewelry, trash bag holder dolls, dish towels, bird feeders, leather goods, photographs, rugs, soaps, lotions, rustic furniture, wood crafts, dish cloths, stuffed animals, stained glass, baby blankets, baby clothes,baby items, boomerangs, marsh mellow guns, hats, Amish Baskets, air fresheners, body butters, lip gloss, botanical items, walking canes, tote bags, crochet and knitted items, oil paintings, greeting cards, and much more.
From our home kitchens,
cakes, cookies, pies, turn overs, yeast bread, quick rising breads, dinner rolls, granola, fudge, candies, coffee, tea, lemonade, scones, cinnamon rolls, cupcakes, muffins, brownies, jam, jelly, syrups (blackberry, strawberry, peach, shag bark hickory) and more added weekly.
We gladly accept SNAP cards and WIC checks. See us at the "Host Tent" for more details.
Come and listen or join in with our Beloved Jammers as they fill the air with music each week. Our Jammers are now located on the new Bicentennial Stage, located in the southwest corner of historic Congress Square (near basketball court).
As summer officially gets underway and many more people are using the historic Orleans Town Square Park (Congress Square) the Orleans Police Department would like to remind park patrons to be courteous to other park patrons and respect the park grounds by putting trash and litter in its proper place by using one of the many trash receptacles located throughout the park. The overall goal is making sure the park area is a clean, safe & positive environment for everyone's enjoyment. Park goers are reminded that the new veterans memorial honors those who have served our country and is a center piece of the park worthy of respect. The Orleans Police Department would also like to remind park goers that bicycles, skateboards, inline skates and scooters are prohibited inside the park grounds.
For great information on Whats happening in Orange County, visit the Visitors Center in French Lick.
__________________________________________________________________________________________________________
Our Valley Market is held on Tuesday's from 9 am to 1 pm. We are located in French Lick on the Town Green.
This week you will see,
breads, fudge, cookies, totes, cloth children's books, purses, doll clothing, stuffed animals, wind chimes, walking canes, aprons, dish towels, knitted and crochet items, baby blankets, cloth story books, dish cloths, jewelry, decorative gourds, lotions, body butters, botanical items, hats, tomatoes, cabbage, kale, bok choy, and more added weekly.
We gladly accept SNAP cards and WIC checks. See us at the "Host Tent" for more details.